THE GALAPAGOS ISLANDS – OUR NATURAL TREASURE
The Galápagos Islands (Archipelago de Colón in Spanish) are a group of islands in the Pacific Ocean which belongs to Ecuador. The islands are famous for having many native animals, including giant tortoises, which are found nowhere else on Earth. These animals helped Charles Darwin towards his theory of evolution by natural selection after he visited the islands in 1835.
The 97% of the islands are a national park, all except the inhabited parts. The Galápagos National Park is a UNESCO World Heritage Site (1978), a marine reserve (1980), and a biosphere reserve (1986).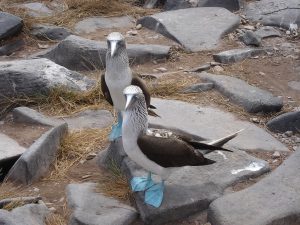 The Galápagos Islands are on the equator, 1000 km (600 miles) from Ecuador in South America. There are 19 islands with a total of 8,010 square km (3,093 sq. miles) of land. The islands were made from volcanoes, and volcanoes are still making the islands of Isabela and Fernandina today. The most recent volcanic eruption was on June 2018.
Climate: Although the islands are located on the equator, the Humboldt Current brings cold water to them, causing frequent drizzles during most of the year. The weather is periodically influenced by the El Niño events, which occur about every 3 to 7 years and are characterized by warm sea surface temperatures, a rise in sea level, greater wave action, and a depletion of nutrients in the water.
During the season known as the garúa (June to November), the temperature by the sea is 22 °C (72 °F), a steady and cold wind blows from south and southeast, frequent drizzles (garúas) last most of the day, and dense fog conceals the islands. During the warm season (December to May), the average sea and air temperature rises to 25 °C (77 °F), there is no wind at all, there are sporadic, though strong, rains and the sun shines.
Weather changes as altitude increases in the large islands. Temperature decreases gradually with altitude, while precipitation increases due to the condensation of moisture in clouds on the slopes. There is a large range in precipitation from one place to another, not only with altitude, but also depending on the location of the islands, and also with the seasons.
ISLANDS THAT YOU CANNOT MISS THEM
Bartolomé (Bartholomew) Island: Bartolomé Island is a volcanic islet just off the east coast of Santiago Island in the Galápagos Islands group. It is one of the «younger» islands in the Galápagos archipelago. This island is one of the few that are home to the Galápagos penguin which is the only wild penguin species to live on the equator. The green turtle is another animal that resides on the island.
Española (Hood) Island: Its name was given in honor of Spain. It also is known as Hood. It has an area of 60 km2 (23 sq mi) and a maximum altitude of 206 metres (676 ft)., Española has a large number of endemic species. It has its own species of lava lizard, mockingbird, and Galápagos tortoise. Española's marine iguanas exhibit a distinctive red coloration change between the breeding season. Española is the only place where the waved albatross nests. Española has two visitor sites. Gardner Bay is a swimming and snorkeling site and offers a great beach. Punta Suarez has migrant, resident, and endemic wildlife, including brightly colored marine iguanas, Española lava lizards, hood mockingbirds, swallow-tailed gulls, blue-footed boobies, Nazca boobies, red-billed tropicbirds, Galápagos hawks, three species of Darwin's finches, and the waved albatross.
Fernandina Island: The name was given in honor of King Ferdinand II of Aragon. Fernandina has an area of 642 km2 (248 sq mi) and a maximum altitude of 1,494 m (4,902 ft). This is the youngest and westernmost island. Punta Espinosa is a narrow stretch of land where hundreds of marine iguanas gather, largely on black lava rocks. The famous flightless cormorants inhabit this island, as do Galápagos penguins, pelicans, Galápagos sea lions and Galápagos fur seals. Different types of lava flows can be compared, and the mangrove forests can be observed.
Floreana (Charles or Santa María) Island: It was named after Juan José Flores, the first President of Ecuador. It has an area of 173 km2 (67 sq mi) and a maximum elevation of 640 m (2,100 ft). It is one of the islands with the most interesting human history, and one of the earliest to be inhabited. Flamingos and green sea turtles nest (December to May) on this island. The Galápagos petrel, a sea bird which spends most of its life away from land, is found here. At Post Office Bay, where 19th-century whalers kept a wooden barrel that served as a post office, mail could be picked up and delivered to its destinations, mainly Europe and the United States, by ships on their way home. At the «Devil's Crown», an underwater volcanic cone and coral formations are found
Santa Fe (Barrington) Island: Named after a city in Spain, it has an area of 24 km2 (9.3 sq mi) and a maximum altitude of 259 m (850 ft). Santa Fe hosts a forest of Opuntia cactus, which are the largest of the archipelago, and Palo Santo. Weathered cliffs provide a haven for swallow-tailed gulls, red-billed tropic birds and shearwater petrels. Santa Fe species of land iguanas are often seen, as well as lava lizards.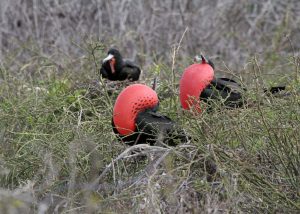 Santiago (San Salvador, James) Island: Its name is equivalent to Saint James in English; it is also known as San Salvador, after the first island discovered by Columbus in the Caribbean Sea. Marine iguanas, sea lions, fur seals, land and sea turtles, flamingos, dolphins and sharks are found here. Darwin finches and Galápagos hawks are usually seen, as well as a colony of fur seals. At Sullivan Bay, a recent (around 100 years ago) pahoehoe lava flow can be observed.
South Plaza Island (Plaza Sur): It is named in honor of a former president of Ecuador, General Leónidas Plaza. The flora of South Plaza includes Opuntia cactus and Sesuvium plants, which form a reddish carpet on top of the lava formations. Iguanas (land, marine and some hybrids of both species) are abundant, and large numbers of birds can be observed from the cliffs at the southern part of the island, including tropic birds and swallow-tailed gulls.
Genovesa: This island is formed by the remaining edge of a large caldera that is submerged. Its nickname of «the bird island» is clearly justified. At Darwin Bay, frigate birds and swallow-tailed gulls, the only nocturnal species of gull in the world, can be seen. Red-footed boobies, noddy terns, lava gulls, tropic birds, doves, storm petrels and Darwin finches are also in sight. Prince Philip's Steps is a bird-watching plateau with Nazca and red-footed boobies. There is a large Palo Santo forest.
Isabela (Albemarle) Island:  This island was named in honor of Queen Isabella I of Castile. With an area of 4,640 km2 (1,790 sq mi), it is the largest island of the Galápagos. Its highest point is Volcano Wolf, with an altitude of 1,707 m (5,600 ft). The island's seahorse shape is the product of the merging of six large volcanoes into a single land mass. On this island, Galápagos penguins, flightless cormorants, marine iguanas, pelicans and Sally Lightfoot crabs abound. At the skirts and calderas of the volcanoes of Isabela, land iguanas and Galápagos tortoises can be observed, as well as Darwin finches, Galápagos hawks, Galápagos doves and very interesting lowland vegetation. The third-largest human settlement of the archipelago, Puerto Villamil, is located at the southeastern tip of the island.
North Seymour Island: It has an area of 1.9 km2 (0.73 sq mi) and a maximum altitude of 28 m (92 ft). This island is home to a large population of blue-footed boobies and swallow-tailed gulls. It hosts one of the largest populations of frigate birds. It was formed from geological uplift.
Rabida (Jervis) Island:  It bears the name of the convent of Rabida, where Columbus left his son during his voyage to the Americas. The high amount of iron contained in the lava at Rabida gives it a distinctive red color. Sealions colony. White-cheeked pintail ducks live in a saltwater lagoon close to the beach, where brown pelicans and boobies have built their nests. Nine species of finches have been reported in this island.
San Cristóbal (Chatham) Island: This is the first island in the Galápagos Archipelago Charles Darwin visited during his voyage on the Beagle. This island hosts frigate birds, sea lions, giant tortoises, blue- and red-footed boobies, tropicbirds, marine iguanas, dolphins and swallow-tailed gulls. The largest freshwater lake in the archipelago, Laguna El Junco, is located in the highlands of San Cristóbal. The capital of the province of Galápagos is Puerto Baquerizo Moreno, which lies at the southern tip of the island, and is close to San Cristóbal Airport.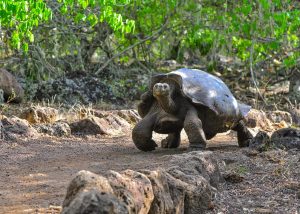 Santa Cruz (Indefatigable) Island: Santa Cruz hosts the largest human population in the archipelago, the town of Puerto Ayora. The Charles Darwin Research Station and the headquarters of the Galápagos National Park Service are located here. The Highlands of Santa Cruz offer exuberant flora and are famous for the lava tunnels. Large tortoise populations are found here. Black Turtle Cove is a site surrounded by mangroves, which sea turtles, rays and small sharks sometimes use as a mating area. Cerro Dragón, known for its flamingo lagoon, is also located here, and along the trail one may see land iguanas foraging.
SOURCE: WIKI.ORG
WHEN TRAVEL TO THE GALAPAGOS
Anytime! All the year around is a great option to do it! One of the most amazing experience that Galapagos offers is the close encounters with wildlife in land and sea. Now, the key point here is if you have a specific interest, per sample: October (cooler temperatures) is a great month for diving! On May, the Albatrosses begin to lay their eggs. Hereunder a guideline of Galapagos activity month by month:
JANUARY
The temperature of water and land rises.

Land iguanas on Isabela Island begin their reproductive cycle.

Green sea turtles come to the beaches of the islands to lay their eggs.

Land birds begin to nest after the first signs of rain.

Male marine iguanas from Española island turn a bright color.
FEBRUARY
Marine iguanas begin their nesting season on Santa Cruz Island.

The Nazca (masked) boobies on Española Island are at the end of their nesting season.

The nesting season of the Galapagos pigeon reaches its highest peak.

The water temperature rises to 25 ° C (77 ° F).
MARCH
Marine iguanas begin nesting on Fernandina Island.

Albatrosses return home to Española Island.

There are short tropical rains, warmest month and the temperature rises up to 30 ° C (86F).
APRIL
Massive arrival of Albatross to Española Island (to begin their courtship).

Hatching season for giant tortoises.

Sea turtle eggs begin to hatch.

Land iguanas' eggs begin to hatch on Isla Isabel.
MAY
The Galapagos Penguins begin to show remarkable activity.

Sea turtles lay their eggs in Gardner Bay and Puerto Egas.

The Palo Santo tree begins to lose its foliage.

Albatrosses begin to lay their eggs.

Marine iguana eggs hatch in Santa Cruz Island.
JUNE
Giant tortoises on Santa Cruz Island migrate from the highlands to the lowlands.

The nesting period of the giant tortoises begins.

Migratory birds from the south can be seen on their way north.
JULY
Seabird chicks begin to grow and learn to survive.

Flightless cormorants' nest on Fernandina Island.

More opportunity to see whales and dolphins on the coasts of Isabela Island.

Lava lizards begin their mating ritual.
AUGUST
Galápagos hawks begin their courtship on the Española and Santiago Islands.

Migratory birds begin to arrive in the archipelago.

Giant tortoises return from the highlands of Santa Cruz.
SEPTEMBER
Penguins begin to show remarkable activity in Bartolome Island.

Sea lions are very active.

Most seabirds are still very active at their nesting sites.
OCTOBER
The Galapagos sea lions begin their mating season.

Boobies raise their chicks on Española Island.

Giant tortoises continue to lay their eggs.
NOVEMBER
The sea lions begin to have a very active sexual activity in the east of the islands.

Sea lion pups are born on all islands.
DECEMBER
Giant tortoise eggs begin to hatch.

Green sea turtles show mating behavior

You can see migratory birds from the north on their way south.
WE INVITE YOU TO DISCOVER A PARADISE! WELCOME!
Let's us know your thoughts, interests and travel dreams